Andreas Larsson is the Best Sommelier of the World (2007 ASI). He has a discerning palate and is a passionate wine lover. He is known not only for his incredible tasting abilities and vast knowledge, but also for his friendly and professional approach. He has a relaxed manner and is a highly sought after taster, speaker and educator within the vast field of gastronomy, food, wine and other beverages.

Today Andreas's main activity is consulting which involves a lot of travel. Even if he cut down on his hours on the restaurant floor he´s still closely linked to gastronomy and remains a consultant for his beloved restaurant PM & Vänner https://pmrestauranger.se/en/  where he since 2006 has been based and curated on of the world´s best wine lists with more than 5000 references from all around the world. PM & Vänner is awarded with one star in the Guide Michelin. The wine collection is one of only 100 in the world that has gotten Wine Spectators Grand Award https://www.winespectator.com/restaurants
How did it start? As a young boy he already developed a passion for cooking and gastronomy which led him to later enter restaurant school and graduate as a chef in 1990. He worked professionally as a chef and combined this with his other great passion – playing jazz. Andreas is a highly accomplished guitarist and improviser.
His passion for wine took off in the mid 90's after visiting the classic French vineyards. As he says of his fascination for wine, "when I first tasted a great wine, it allured me so much, I wanted to know how this magic beverage could express so much, display so much diversity, complexity and longevity, I wanted to know everything".
His hunger, or rather thirst for knowledge, led him to very intense studies and he graduated as sommelier at Restaurangakademien in Stockholm 1999. After graduation, he worked full time as a devoted sommelier in the finest restaurants and started to compete as a sommelier.
He says about the competitions, "I just did it to learn and improve my skills, beyond the actual wine knowledge, there was so much involved in terms of service, language skills, presentation, communication and performance".
His career quickly escalated as he won the Swedish championships in 2001 and 2002, then became the best sommelier of the Nordic countries in 2002, in 2004 he won the European Championship on his first attempt. Yet, his ultimate goal was to become the best sommelier of the world. After timeless studying, non-stop travelling to wine regions around the world, immense tasting and loads of mental preparation, his dream was fulfilled in 2007 when he won the best sommelier of the world competition.
He humbly says about his great achievement "it takes a small dose of talent, plenty of work and a huge passion!"
Today he´s devoting a lot of time to education and inspiring upcoming sommeliers beyond his very busy role as a taster, consultant and sommelier. He annually rates over thousands of wines and still enjoys cooking and playing the guitar.
"I´m very privileged to work in this fantastic world of food and wine, not only for the product itself, but for the encounters with history, culture and the great people behind it."
Watch the interview of Andreas Larsson on www.finedininglovers.com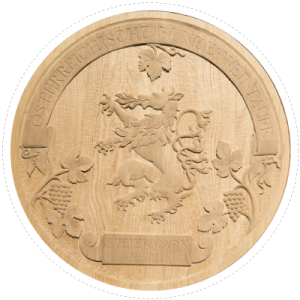 2009
Laureat of the Bacchus Prize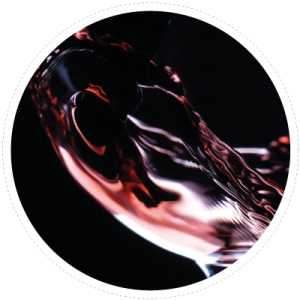 2008
Laureat of the Swedish Wine Academy Grand Prize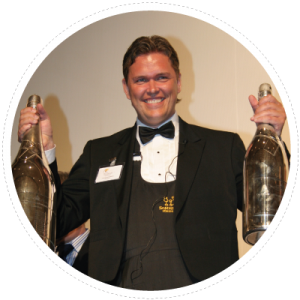 2007
Best Sommelier of the World (ASI)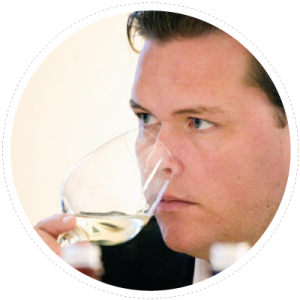 2005
Wine International Sommelier of the year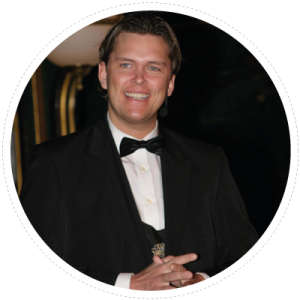 2005
Best sommelier of Sweden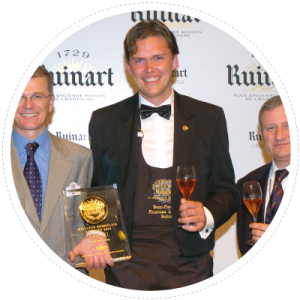 2004
Best Sommelier of Europe
Trophée Ruinart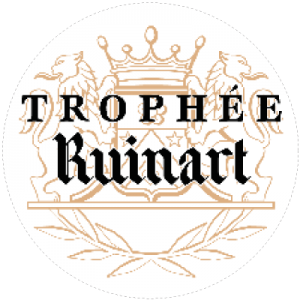 2003
Best Sommelier of Sweden
Trophée Ruinart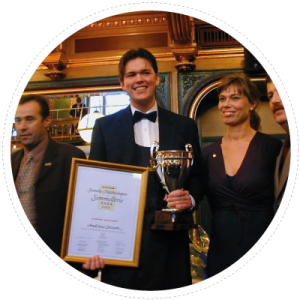 2002
Nordic Sommelier Champion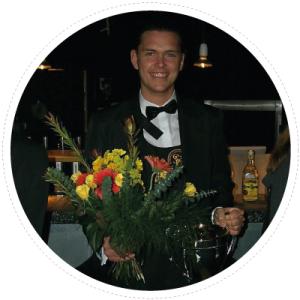 2001 & 2002
Best Sommelier of Sweden